Sapa Tour: Cat Cat, Lao Chai - Ta Van, Ta Phin and transfer by Bus
[ Duration: 3 days/ 2 night ]
You will trek for 2 days through the various villages and experience charming Sapa. Located about 17km in the west of Sapa, Ta Phin is a village of Red Dao's people possessing a rich culture that has not been damaged by the modern life.
Coming to Ta Phin, you will immediately catch sight of groups of Red Dao's women gathering together, keeping inside their hands colorful reels of thread and cloths. They sew continuously, even when offering the goods to the customers. Amazingly, most of them can speak quite well, some use Vietnamese less than English. Since 1998, Ta Phin has officially become the "brocade village", where tourists can find the distinctively hand-made brocades made by ethnic people. All of the products are eye-catching with numerous bright colors and patterns, ranging from bag, scarf, purse, to skirt, and even backpack and coat. Ta Phin is also the main supply of brocades for shops in Hanoi and Ho Chi Minh City, and the products are exported to foreign countries as well.
"This schedule included five-star round-trip bus ticket from Hanoi to Sapa"
During the online registration process, you can request the package in the "Special Requests" section provided.
EG: ( 2-Star hotel, Private group 2 pax, Single room )
2-Star hotel package
Private group 2 pax: 155 USD/1 person
Private group 3-4 pax: 135 USD/1 person
Private group 5-6 pax: 125 USD/1 person
Private group +7 pax: 120 USD/1 person
Single room: +35 USD
3-Star hotel package
Private group 2 pax: 180 USD/1 person
Private group 3-4 pax: 163 USD/1 person
Private group 5-6 pax: 150 USD/1 person
Private group +7 pax: 144 USD/1 person
Single room: +52 USD
4-Star hotel package
Private group 2 pax: 220 USD/1 person
Private group 3-4 pax: 203 USD/1 person
Private group 5-6 pax: 190 USD/1 person
Private group +7 pax: 184 USD/1 person
Single room: +92 USD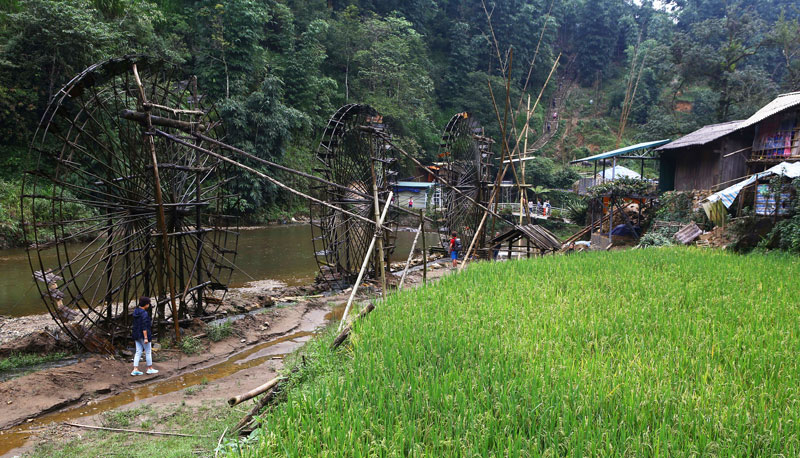 Day 1: Hanoi – Sapa – Cat Cat (-/L/D)
06:30: Free pick up at your hotel in the Old Quarter of Hanoi and transfer to Sapa Express' Office, No.12 Ly Thai To Street.
07:00: Start departure to Sapa. The tour guide will explain to you about the trip and Sapa. Then you will be served mineral water and some snacks.
Along the way, you will have chance to contemplate the beauty of northwest mountains that terraced fields are sparkling in sunlight or dim in thick fog. Have a short break for 30 minutes then continue the trip to Sapa.
12:30: Arrive in Sapa, check in hotel and have lunch.
Afternoon: start trekking to Cat Cat Village, about 45 minutes walking from Sapa, this is the village of Black H'Mong hill tribe. The village is on the slope of the hill and easy walking, rice and corn are grown here.
Visiting Cat Cat village, you will have a chance to visit a big waterfall on the stream and the old Hydro Electric Power Station built by French people. That is the image of young women sitting by looms with colorful pieces of brocade decorated with designs of flowers and birds. When these pieces of brocade are finished, they are dyed and embroidered with beautiful designs. A note worthy is that H'Mong women use indigo plants and leaves to dye these brocade fabrics. And then they roll around and smooth section of wood covered with wax on fabrics to polish them, making their colors durable.
Evening: After dinner, you are free to explore the charm of Sapa by night, enjoy roasted corn, baked eggs beside charcoal fire or go shopping. Especially on Saturday night, we highly recommend a stop at the Love Market which is one of unique cultures of ethnic minorities HMong, Dzao in Lao Cai in particular and North West of Vietnam in general.
Dinner and overnight at hotel in Sapa.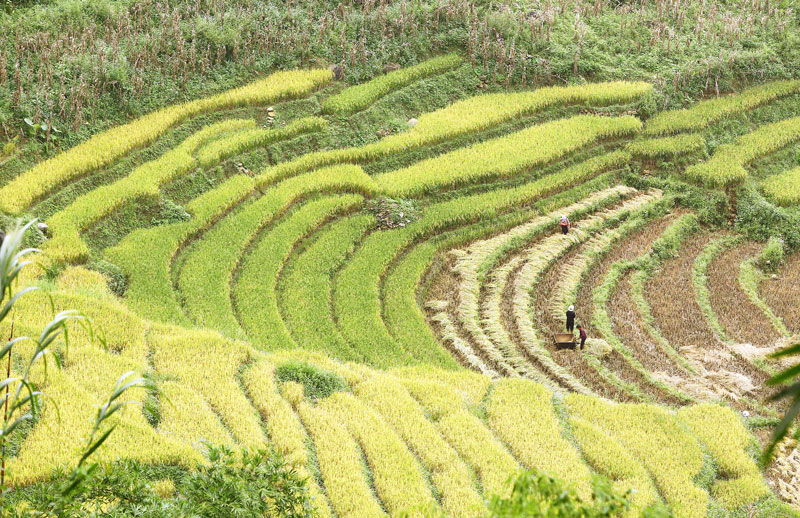 Day 2: Trekking Lao Chai and Ta Van villages – Sapa (B/L/D)
09:00: After breakfast, we start first 6km of walking down to the south east of Sapa along the side of Muong Hoa valley to Y Linh Ho village of Black H'mong people. Continue a 2km trekking down to Lao Chai village. Here we will discover their daily life and how they make traditional clothes, handicraft, indigo... We will visit the biggest valley which provides the best view for golden rice terrace fields in Vietnam. After Lao Chai we walk to Ta Van village of Giay people. It is a small group of ethnic people in Vietnam with a rich culture and beautiful houses located on rice paddy fields.
Lao Chai & Ta Van Villages, about 8 km from Sapa town, where black H'mong and Giay people are living, it is also the beginning of the valley which is called Muong Hoa. From a high point of the main road, great view of the whole villages open wide to offer the marvelous panorama views, backed by high mountains and facing the river. Here you will enjoy the fresh air, see terrace fields, stream, discover and visit some Black H'mong families. You will have a welcome feeling at any house of the hospitable people there. You can interact them, learn about their culture and customs…
We will have lunch with the locals in one of the local houses before coming back to Sapa by bus.
Afternoon: free time at leisure for shopping or visiting Sapa town on your own.
Dinner and overnight at hotel in Sapa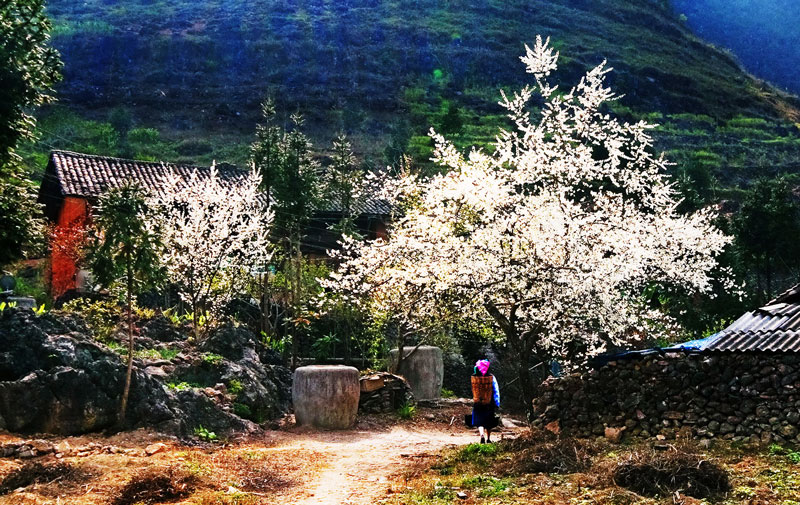 Day 3: Ma Tra - Ta Phin – Sapa – Hanoi (B/L/-)
5km by car or jeep before taking a trail along local paths and through rice fields to the Black H'mong Village of Ma Tra. During the day, you will also be able to visit a local school.
After lunch, we continue walking through beautiful scenery to the Red Dao village of Ta Phin. There is plenty of time to walk around the village and soak up the atmosphere. You will enjoy walking among local people. The trip also offers you the opportunity to visit some local houses as well as visit the local caves.
14:00: Our bus will take you from Taphin village to Sapa.
16:00: It's time to say "Good bye Sapa!" and get back to Hanoi.
21:30: Arrive in Ha Noi.
1. INCLUDE
- Ticket Bus: Hanoi-Sapa-Hanoi - (with air-conditioner, travel blanket, pillow)
- Transportation as programme
- Accommodation at hotel (2 - 3 persons/ room)
- English speaking guide during the tour (enthusiastic, experienced)
- Meals as mentioned on itinerary (B: breakfast, L: Lunch, D: dinner).
- Entrance fees.
2. EXCLUDE
- Insurance, Visas
- Other personal expenses (tip, laundry, drink with meals,...)
3. THINGS TO KNOW WHEN TRAVELING
- Do not buy from street venders.
- Do not use service from street venders or brokers.
- Do not give children who on street money or candy.
- Ask before taking photo.
- Take a legal taxi with the help of the tour operator.
4. ACCEPT PAYMENTS