Sapa Tour: Visit Cat Cat, Ham Rong mountain and transfer by Bus
[ Duration: 2 days/ 1 night ]
Join this tour you will have a chance to visit a big waterfall on the stream and the old Hydro Electric Power Station built by French people, we will pick you up from Hanoi and transfer to Sapa by Express Bus.
Ham Rong is home to numerous kinds of flowers and orchard gardens. Wandering stone paths leads tourists to wild peach forest, then orchid gardens with more than 6000 orchid plants belonging to 194 kinds. Besides, there are a lot of indigenous and exotic flowers grown along the paths like Lily of the Nile, hydrangea, geraniums, ox-eyed daisy and cheery blossom. Mountain fruits like peach, plum, and pear are also found here. The scenery hidden in the fog and echo sound from bamboo flute of Mong minority boy change this place into a heaven on the earth.
"This schedule included five-star round-trip bus ticket from Hanoi to Sapa"
During the online registration process, you can request the package in the "Special Requests" section provided.
EG: ( 2-Star hotel, Single room )
2-Star hotel package
Price: 95 USD
Single room: +15 USD
3-Star hotel package
Price: 110 USD
Single room: +26 USD
4-Star hotel package
Price: 170 USD
Single room: +48 USD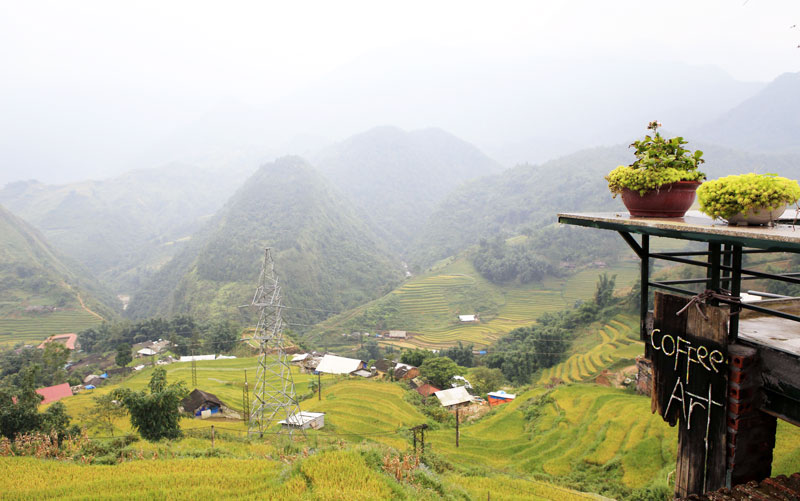 Day 1: Hanoi – Sapa – Cat Cat (-/L/D)
06:30: Free pick up at your hotel in the Old Quarter of Hanoi and transfer to Sapa Express' Office, No.12 Ly Thai To Street.
07:00: Start departure to Sapa. The tour guide will explain to you about the trip and Sapa. Then you will be served mineral water and some snacks.
Along the way, you will have chance to contemplate the beauty of northwest mountains that terraced fields are sparkling in sunlight or dim in thick fog. Have a short break for 30 minutes then continue the trip to Sapa.
12:30: Arrive in Sapa, check in hotel and have lunch.
Afternoon: start trekking to Cat Cat Village, about 45 minutes walk from Sapa, this is the village of Black H'Mong hill tribe. The village is on the slope of the hill and easy walking, rice and corn are grown here.
Visiting Cat Cat village, you will have a chance to visit a big waterfall on the stream and the old Hydro Electric Power Station built by French people. That is the image of young women sitting by looms with colorful pieces of brocade decorated with designs of flowers and birds. When these pieces of brocade are finished, they are dyed and embroidered with beautiful designs. A note worthy is that H'Mong women use indigo plants and leaves to dye these brocade fabrics. And then they roll around and smooth section of wood covered with wax on fabrics to polish them, making their colors durable.
Evening: After dinner, you are free to explore the charm of Sapa by night, enjoy roasted corn, baked eggs beside charcoal fire or go shopping. Especially on Saturday night, we highly recommend a stop at the Love Market which is one of unique cultures of ethnic minorities HMong, Dzao in Lao Cai in particular and North West of Vietnam in general.
Dinner and overnight at hotel in Sapa.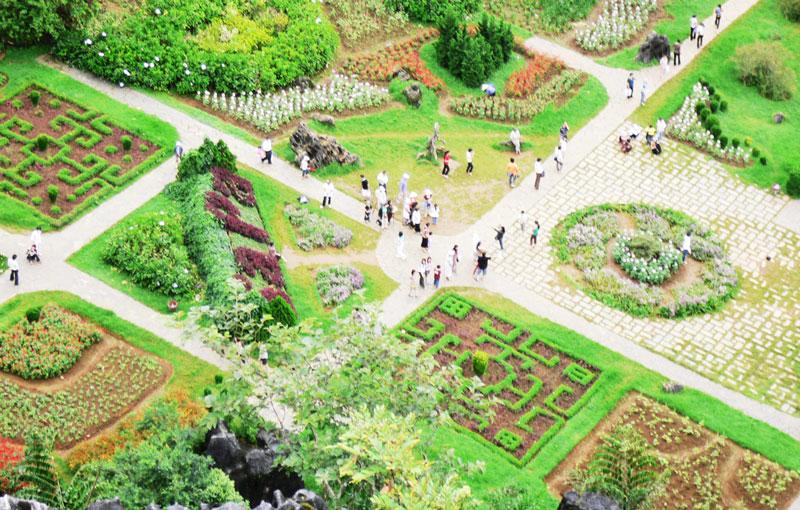 Day 2: Ham Rong Mountain – Hanoi (B/L/-)
Morning:
After breakfast at hotel, you will begin the trek up Ham Rong (Dragon's Jaw) Mountain.
HamRong Botanical Garden: don't miss the lovely botanical gardens above the main square in town with their spectacular viewpoint from the top. There are fabulous views of the town and the wider landscape as well as tended gardens to visit. This park is essentially a long cobblestone walkway to the top of Ham Rong Mountain. It's a strenuous climb, but the panoramic vista at the top is well worth tackling all those stairs. Along the way, there are countless potted orchids, beautiful landscaped gardens and a few really tacky statues of cartoon characters like Scooby Doo and Mickey Mouse. One word of caution, the stone stairs could be treacherous on a rainy or misty day.
Go back to your hotel for check out and have lunch.
16:00: It's time to say "Good bye Sa Pa!" and drive back to Hanoi.
21:30: We arrive in Ha Noi.
1. INCLUDE
- Ticket Bus: Hanoi-Sapa-Hanoi - (with air-conditioner, travel blanket, pillow)
- Transportation as programme
- Accommodation at hotel (2 - 3 persons/ room)
- English speaking guide during the tour (enthusiastic, experienced)
- Meals as mentioned on itinerary (B: breakfast, L: Lunch, D: dinner).
- Entrance fees.
2. EXCLUDE
- Insurance, Visas
- Other personal expenses (tip, laundry, drink with meals,...)
3. THINGS TO KNOW WHEN TRAVELING
- Do not buy from street venders.
- Do not use service from street venders or brokers.
- Do not give children who on street money or candy.
- Ask before taking photo.
- Take a legal taxi with the help of the tour operator.
4. ACCEPT PAYMENTS