Travel to Sapa by Open bus of Sapa Express
[ Special aircraft on the ground ]
Open bus noble limousine 28 seats of Sapa Express is called "Special aircraft on the ground"
Sapa Express bus on Noi Bai - Lao Cai highway
Departure: Daily
From Hanoi to Sapa: 07.00 am
From Sapa to Hanoi: 16.00 p.m
Price: 17.5$ for one person, one way
Sapa is famous both for its fine, rugged scenery and for its rich cultural diversity. French used to consider Sapa as Summer Capital of Northern Vietnam in the early decades of the 20th century. Its naturally gifted beauty keeps attracting more and more people to spend their vacation there since then. Particularly, the place is the foremost choice for honeymoon couples! Travellers are invited to enjoy the best of Sapa all the year round with different taste of seasons and exciting outdoors.
Wating the customer
Wating the customer
Noble Limousine bus has 29 seats very long, huge and comfortable
INCLUDE:
- Transport: Bus Sapa Express - Noble Limousine 29 seats are called "Special aircraft on the ground" with air-conditioner, travel blanket, pillow,…
- Guide bus
- Welcome drink (tea, caffee), candy in our office.
- Free wifi
- Water, wet tissue on Sapa Express Bus.
- Snack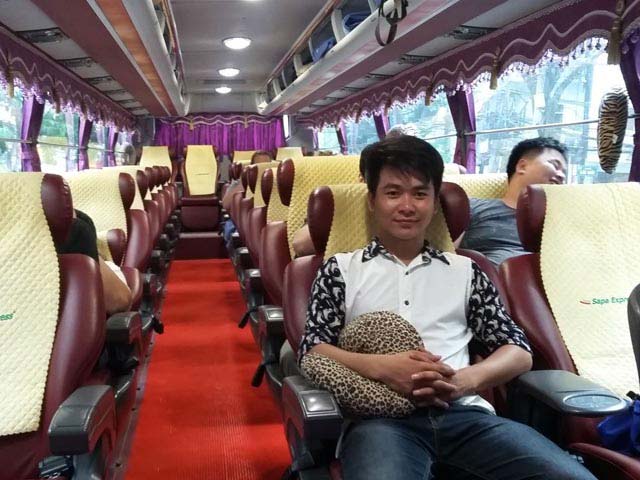 Contact us:
SAPA EXPRESS - The best choice for Sapa trip
Adress: 12 Ly Thai To - Hoan Kiem District - Hanoi
Tel: (+84) 4 668 21555
Hotline: 0984.890.055 - 0983.210.055
Website: http://sapaexpress.com
Email: [email protected]