Bus Hanoi - Sapa (28 seats one-way)
[ Duration about 6 hours ]
1. Itinerary One-Way (discount 10% on round-trip booking)
Hanoi - Sapa: (02 trips)
06:30 - Pick-up at Sapa Express' Office, 70C Nguyen Huu Huan, Hoan Kiem, Hanoi.
07:00 - Departure to Sapa. The tour guide will explain to you about the trip and Sapa. Then you will be served mineral water.
07:45 -Pick-up at Noi Bai airport (only availble upon request at least before 48 hours - fee 5$ per group, see meeting point here).
08:30 - Have a rest-stop at Km57 for 30 minutes, here if you need extra refreshment, and that allows you to go to toilet also.
11:30 - For the safety before going up mountain pass to Sapa, stop within 20 minutes at Coc San for the second rest-stop.
13:00 - Arrival Sapa town - stop at our office, 06 Vuon Treo Sapa street.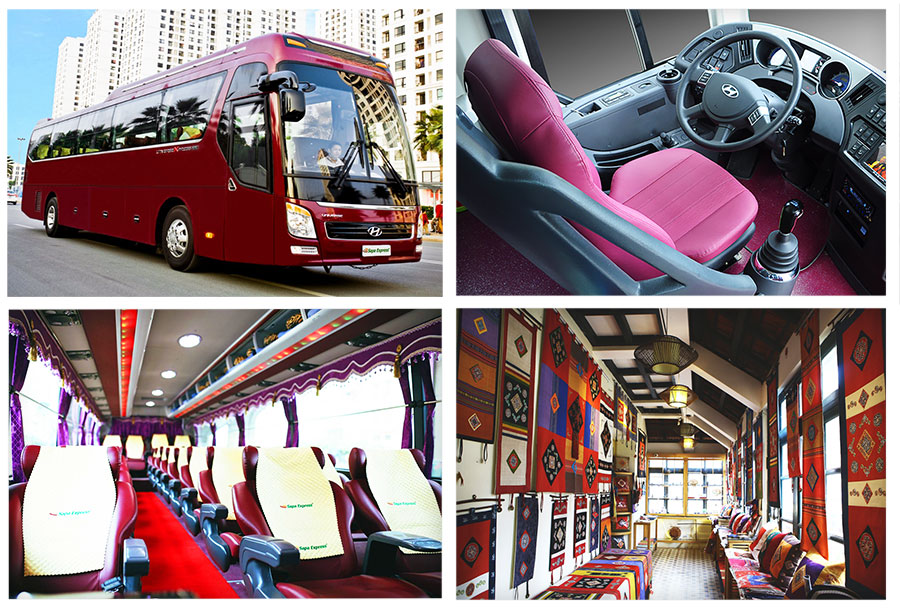 2. Facilities
- Sapa Express Bus, the Noble Limousine 28 seats bus from South Korea, is called "Special aircraft on the ground" in business class.
- English speaking tour guide on board.
- Air-conditioner.
- Wifi.
- Mineral water.
- Travel blanket and pillow.
3. Note
- 30% surcharge on holidays.
- Children under 5 years old are free (shared seats with parent)
- Children over 5 years old are charged as adults.
4. Things to know when traveling to Sapa
- Do not buy from street venders.
- Do not use service from street venders or brokers.
- Do not give children who on street money or candy.
- Ask before taking photo.
- Take a legal taxi with the help of the tour operator.
5. Accept payments