Bus Ha Long - Ha Noi (vip one-way)
[ Duration about 2,5 hours ]
1. Itinerary One-Way
Ha Long - Ha Noi:
17.00 Our Limousine bus will pick you up from Bai Chay Habour.
17.30 Our Limousine bus will pick you up from Tuan Chau Habour.
18.00 Bus follow the new high way (Hai Phong 5B) to Ha Noi then you will be served mineral water.
19:15 Arrive Rest stop in Hai Duong Provine (km 54) for toilet about 10 minutes only.
20:30 Arrive Ha Noi center, drop off at 70 Nguyen Huu Huan street. Our staffs will help you to take back your luggage from the bus and call taxi or help you to find the way to your hotel in the Old Quarter.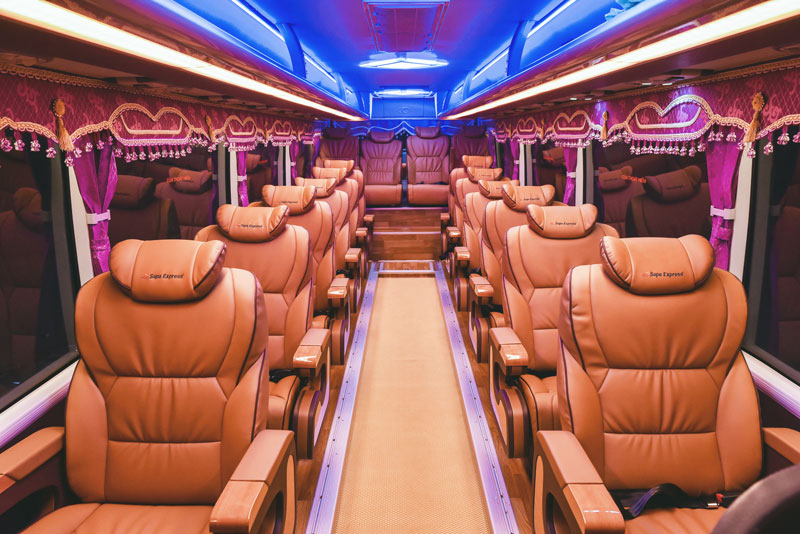 2. Facilities
- GreenTravel using the Universe Limousine 13 or 15 seats based on 35 seats form factor, is called "Special aircraft on the ground" in business class.
- English speaking tour guide on board.
- Air-conditioner.
- Mineral water.
- Travel blanket and pillow.
3. Note
- 30% surcharge on holidays.
- Children under 5 years old are free (shared seats with parent)
- Children over 5 years old are charged as adults.
4. Things to know when traveling to Sapa
- Do not buy from street venders.
- Do not use service from street venders or brokers.
- Do not give children who on street money or candy.
- Ask before taking photo.
- Take a legal taxi with the help of the tour operator.
5. Accept payments